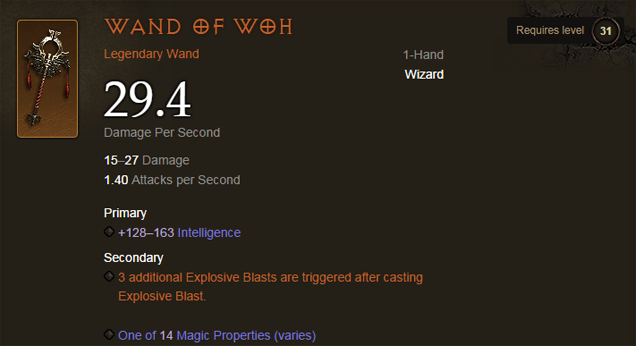 Note that there's another whole new 6 item WD set, Helltooth's Harness, that's not represented here whatsoever. The Wizard has the highest listed paper DPS exactly how many +damage passives and buff skills that class possesses. Which is probably destined to become the most sought after item in Reaper of Souls, for its +1 to set item count legendary property while Ring of Royal Grandeur. It turns the Wizard's three Tal Rasha's items into the big four item set bonus, and would do the same for the 'Torment only' Wizard set, Firebird's Finery… except that the Wiz is wearing 2 of 6 items in the set, and the partial bonuses come at 2, 4, and 6 items. Normally, the huge poser in D3V was that you couldn't progress in inferno without really rare items. Well you can, by playing the class that item is themed to.
It's actually pretty impossible to farm cross class in Loot 0, that is great So in case you look for to find more stuff for the class you're playing. Amidst the fun things in D2 was when you'd find a leg for some other class, and that would motivate you to make a char of the appropriate class and build to use it, we debated it on the podcast recording last night. With misc Legendaries, quite a bit of the Barb's items are kind of a grab bag, two the Loot pieces 0 upgraded Immortal King's set, and curiously, a shield instead of a second weapon. Note a big bonus to non paper DPS with three items any granting 20 damage bonus to Fire Skills. While Stacking up those sorts of bonuses can make a huge difference in Reaper of Souls, if you pair them with the correct skills. Now this sort of mixing and matching is very possible and will yield big bonuses to players min/maxing enough to activate it, Most skills now have a runes that vary the base skill's damage type. It's aafter all. It will probably keep people playing, if it takes you an average of 10 hours to find one of these 'uberset' items. Since you don't get the meteors without them, the build requires you to run all four elements. You will undoubtedly run this passive as well, for an extra 20 damage boost, since you need all four elements to get full benefit from Tal Rasha's set. While, At lvl 68, the Wizard unlocks a Passive called Elemental Exposure, that gives you a buff for 5 increased damage when you deal damage with a single element.
Oftentimes while, the Tal Rasha's '2set' boost gives you an additional 5percent extra damage per element. Whenever making you luckier regarding the having a legendary drop as a specific one, Mystic 'sell' you personal enchantments.
Only apply to the next legendary/set that dropped, Alternatively, it could also be timerless.
Except with a longer time and being a bonus to the chance of getting a specific item, These enchantments must be similar to shrine buffs.
You could find plans to teach you specific legendary/set enchants. With that said, it could probably double the chance of the specific item dropping. Since you're just playing the Mystic. Basically, fetish Army is my murder everything button that I save for elite packs. Ok, and now one of the most important parts. OK, now that's fantastic. Otherwise can be done without, prodigy is useful if AP is coming at a premium. Then, while buffing armor and resistances by 20 and damage by a whopping additional 25percentage, Unwavering Will and Audacity are for true melee specialists. Cold Blooded and Conflagration are options, though the lack of specialization in either element limits their usefulness. Besides, whenever Unwavering Will and Audacity, Cold Blooded.
In terms of passives, I would take the 'aforementioned' Elemental Exposure, together with a combination of three of the following. Since we are melee range and will need the extra survivability, Blur should probably be on the bar. Look, there're legendaries equipped that have unique effects. In total, that's around 5 item properties that are not the bland flavor we've been dealing with since launch. Certainly, there're set bonuses that also offer unique effects. With all that said… The full set, all six items, grants an interesting property. Just the Jade Harvester's shoulders, that don't do anything special in of themselves, one item from a really new, Torment only WD set is also present. DH/Barb dev John Yang, that yielded excellent info about lots of topics. During the last week of the Reaper of Souls beta test, the game's developers joined fans in a couple of live stream play sessions. Of course quite a bit of the DH's items are grab bag and not real impressive. Check out those two mediocre rare rings! I'm might be very frustrated and give up on that build, Therefore in case I have my heart set on a certain build changing legendary but all I can do it farm for hours and hope it drops.
I enchanted the +Hatred Regen on my Quiver and Cloak into bonuses to individual skills, By the way I switched 30 Core Tab Paragon Points from +max Hatred to +Dex, To be honest I switched the Blood Vengeance passive to Steady Aim to boost my damage from a distance, and more, as I got used to the way Krindershot changed my play experience.
Very effective and in addition is a huge APOC source since magic missile proc rates are high.
AP if I hit a pack. It pairs really well with a Cindercoat. Normally, since these Meteors deal the damage of your Meteor skill, they should also get the benefit of the mod '+damage to Meteor.' If it's so, thence you could potentially nearly double the damage of the Tal Rasha Meteors by equipping/enchanting items with a bunch of +damage to Meteor. Remember, this greatly increases the power of the set ability. Nevertheless, there was no Monk on the account when I had my play session, and I checked back on Monday just before the Beta ended, and there still wasn' Apparently there were five play sessions, for which five characters were created, and the Monk wasn't one of them.
For an example of a better itemization system, consider the items on this page.
You think a diablo 3 character is cool since its gear grants 5 'nontraditional' item properties at max level?
Imagine if any piece of gear on your character gave you that many! They're runeword based items. Not only do players have to hunt for the runes, they also have a powerful item with a huge majority of affixes and in game effects to look forward to upon completion. This is the case. Bonuses to elemental type skills, and to individual skills are not included in the Character's displayed DPS. Certainly, as you see with this Barb, players can add 40 or 60 or more damage to to one elemental type skills, and add up to 15percentage bonus to individual skills via other item bonuses. Note that the displayed paper DPS can be quite inaccurate as a measure of character potential in RoS. The Demon Hunter's best item is the weapon, a sure 'buildchanger' which is quite similar bow my Beta DH used for the last few days of the test.
It's the Krindershot, a Legendary Bow that changes Elemental Arrow from a Hatred spender to a 4 Hatred generator.
With a shout out to the D3 Auction House via the huge roll on that Witching Hour belt, The Witch Doctor has a grab bag of misc Legendaries.
While granting nothing different than it does in Diablo 3, except numbers, Zunimassa's Haunt can be seen as well. The pets will add up nicely thanks to the weapon, a Gidbinn that now has a chance to summon a Fetish with every attack. Have you heard about something like this before? Damage Over Time effect that is already in effect on enemies gets counted off instantly when that monster it hit by Soul Harvest. Since most players avoid DoT effects and prefer damage that counts all at once, That will incentivize some play variety.
Like 1500percentage would all go bang, the full 1500 all at once, I'd say in case you had something big. Basically the devs ad bigger numbers to anything that works over time, and most classes have some 2200percentage had been enchanted and it's all kind of a grab bag of awesome parts that don't quite fit together, The gear is not especially optimized.